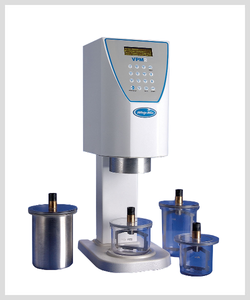 Programmable Vacuum Mixing Unit is designed for vacuum mixing all types of gypsums, plasters, and investments. Utilizing multiple stages, the VPM2 can be programmed for time, speed, and paddle direction. Enter up to 30 separate programs. Premix stage blends powder and liquid using alternating paddle direction enabling hands free mixing. Twin chamber, oil-less vacuum pump offers a powerful vacuum quickly, providing a bubble-free mix. Includes 500 ml Vac-U-Mixer.
Product Specifications:
Dimension 23.375" H x 7.375" W x 10.5" D (59.375 cm x 18.7325 cm x 26.670 cm)
User Programs 30
Voltage 100/120 Vac, 5A : 200/240 Vac, 2.5A 50/60Hz
Mixing Time 1 Sec - 255 Sec (4.25 Minutes)
Vacuum 27.5 In Hg (930 mbar)
Mixing Speed 100 RPM - 500 RPM (Premix, 100RPM - 400 RPM)
Fuse Type 5 Amp Fast Acting
Weight 45 lbs (20.4 kg)
Item # 29340 VPM2 with Stand
Have questions? Give us a call at 813.888.8889 and we will help you to find what you need!