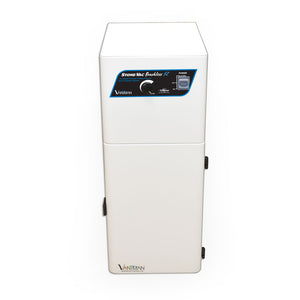 The Stone Vac Brushless SC is a powerful dust collector and is designed for collecting heavier dust and particulates (including precious metals). The SC model features a brushless motor which nearly doubles standard motor life making the Brushless SC ideal for heavy and high volume use.  All units are assembled by hand in the USA.
Product Features:
Long-Lasting Brushless Motor;
Unit designed for Die Stone, Micro Sandblasting media, Porcelain, precious metals, and other Dry Material;
Push button quick cleaning system;
Lab Grade HEPA filtration – captures 99.97% of dust at 0.3 microns;
Bagless Design with Removable Dust Bin;
Can work on 1, 2, 3, or even 4 workstations at once (depending on application);
Extremely Quiet 57db (60db is normal conversation);
High Capacity Motor;
1 Year Vaniman Warranty;
Easy Maintenance.
Includes:
1x Stone Vac Brushless SC, 1x 2 1/2″ Suction Hose (3ft). 
Download the instructions here.
Art. #10237 StoneVac Brushless SC w/o Accumulator for 1-2 Station(s)
Art. #11057 StoneVac Brushless SC w/ Accumulator
Have questions or need parts/consumables for this suction unit? Give us a call at 813.888.8889 and we will help you to find what you need!