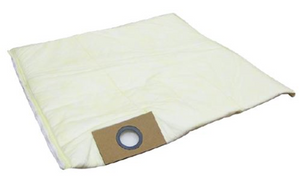 Multilayered vacuum bag filter for removing fine particulate matter and prolonging life of higher efficiency and critical filters. Acts as a barrier to contain large quantities of debris. Debris collects inside filter bag to reduce the risk of exposure to service personnel when replacing filter bag. 
Approx Size: 18" x 18" x 2"
Material: Non Woven Polyester
Efficiency: MERV 12-13
Inlet: Designed to fit 1.5" dia. collar
5 pieces per package.
Art. # AG205-5