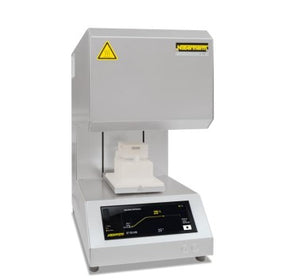 The high-temperature speed sintering furnace LHT 01/16 Turbo Fire was developed for the speed sintering of 1 - 3 single crowns made of translucent zirconium oxide up to a maximum temperature of 1600 °C. The entire sintering process can be completed within one hour. The furnace ideally suited for chairside production at the dentist or for urgent jobs in the dental laboratory. The electrically driving lifting table enables convenient charging. The all-round heating of the furnace chamber with six heating elements made of molybdenum disilicate ensures a very good temperature uniformity and fast heating times can be achieved. The special insulation with low heat capacity additionally ensures short cooling times. The heating elements tailored to the process avoid chemical interactions between the charge and the furnace components as best as possible and offer a long service life.
The crowns are placed in a saggar made of technical ceramics. The starter set for charging is already included in the scope of delivery. The high-temperature speed sintering furnace LHT 01/16 Turbo Fire sinters up to 3 single crowns within one hour. It can be programmed for all common temperature curves for speed sintering translucent zirconium oxide.
The colored, high-contrast 6.8-inch touch display enables convenient program input on the large screen. Programs can be displayed graphically and in tabular form. With the free MyNabertherm App, the furnace can be conveniently monitored online via mobile devices as a powerful addition to the Nabertherm controller. The process progress can be tracked, push notifications provide information about malfunctions.
Tmax

 

1600 °C
Six high-quality heating elements made of molybdenum disilicate offer very good protection against chemical interaction between charge and heating elements.
Very good temperature uniformity due to allround heating of the furnace chamber.
Dual shell housing made of textured stainless-steel sheets with additional fan cooling for low surface temperature.
Exclusive use of insulation materials without categorization according to EC Regulation No 1272/2008 (CLP). This explicitly means that alumino silicate wool, also known as "refractory ceramic fiber" (RCF), which is classified and possibly carcinogenic, is not used.
Scope of delivery includes a starter set for charging on one level.
Precise, motorized toothed belt drive of the table with button operation.
1 - 3 single crowns can be sintered within an hour
Usable for speed sintering blanks of all leading manufacturers
Exhaust air vent in the roof
Type S thermocouple
Precise temperature control, also in the lower temperature range for drying.
Switchgear with steady control of the heating elements
Controller with touch operation P580 (50 programs with each 40 segments), 2 preset sample programs
MyNabertherm App for online monitoring of the firing on mobile devices for free download
Freeware NTEdit for convenient program input via MS Excel on the PC
Freeware NTGraph for evaluation and documentation of firings using MS Excel on the PC
NTLog Basic for Nabertherm controller: recording of process data with USB-flash drive.
Defined application within the constraints of the operating instructions.
*These furnaces are available for main voltage of 200 V, 208 V, 220 V - 240 V, 1/N/PE or 2/PE
Have questions or need parts/consumables for this sintering oven? Give us a call at 813.888.8889 and we will help you to find what you need!
Click URL to download brochure.
https://cdn.shopify.com/s/files/1/0043/8648/8409/files/Nabertherm_brochure.pdf?1120811739486568590