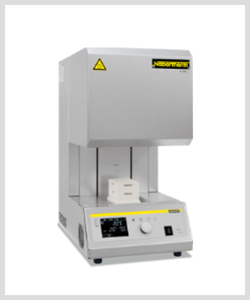 High-Temperature Bottom Loading Furnace up to 1650 °C with Integrated Speed Cooling System for Sintering of Translucent Zirconia 
sets new standards in the market due to its convincing price/performance ratio.
Due to their maximum temperature of 1650 °C and their large furnace chamber, the high-temperature bottom loading furnaces are perfectly suited for sintering translucent zirconia. The motor-driven lifting table significantly simplifies the charging of the high-temperature furnace. The all-around heating of the cylindrical furnace chamber ensures a very even temperature uniformity.
Maximum temperature of 1650 °C

Space for up to two batch containers for max. 15 single crowns per level

Additionally equipped with a drying as well as a forced cooling function

For accelerated cooling, the furnace is automatically opened step by step under program control

Can achieve total cycle times of less than two and a half hours

Individual programming for all recommended sintering curves of all zirconia manufacturers
Download the brochure.
Have questions or need parts/consumables for this sintering oven? Give us a call at 813.888.8889 and we will help you to find what you need!