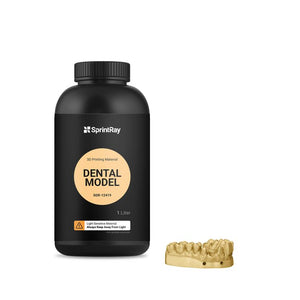 Previously known as Dental Model.
Dental Model resin shows all the minutiae of detail due to its color. It is a highly accurate resin that is created specifically for use as a visual aid and is perfect for dental modeling.
Dental Model is a great option for study models, wax ups, and models used in traditional forming processes for aligners and retainers. 
All pigmented resins are prone to separation. It is important that you mix up your resin very well before pouring into the tank, stir before each use, and don't allow the resin to be exposed to air for more than three days. If the resin has been out for less than three days, you can pour it back into the bottle for use later. Resin stored properly is good for up to a year.
Any UV Light source can be used to post cure your Dental Model. With an inexpensive 48W 400-420nm set up you typically get post cured parts in less than 30 minutes. Using professional curing tools with temperature controls, you should get full cure in about 15 minutes at 40C or higher. 
Art. # DTL-12420