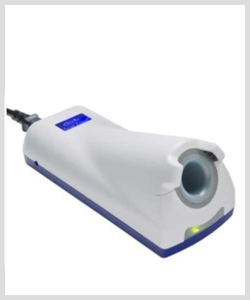 Induction Heater
The Heat Zone heats wax modeling tools without flame using an electromagnetic induction process and is sensor activated when a tool is inserted into the "zone".  It heats the tool safely and extremely fast, replacing the traditional Bunsen Burner. The induction form of heating ensures complete safety for non-metallic items such as fingers and clothing eliminating the potential for burns or fire.
Heats wax tools fast without flame.
No carbon deposits on instruments or on wax ups.
Energy efficient as power is used only at the moment of heating.
No gas lines required, making unit mobile and operational anywhere an electric outlet is available.
Indicator light glows green for ready mode and red for when in use.
Safety light blinks when instrument is left in too long
Replaceable inserts keeps unit clean of wax residue (5 included)
Two Year warranty
The Heat Zone provides a safe, clean, convenient way to heat wax tools without compromising productivity.
Item # 10147 Heat zone 115V
Have questions? Give us a call at 813.888.8889 and we will help you to find what you need!