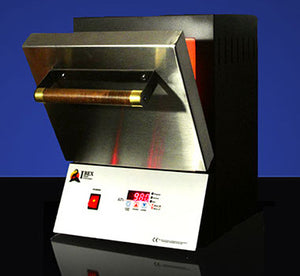 The APEX three-stage burn-out oven has unique side-plate heating elements, the APEX is able to achieve a more uniform heat distribution within its chamber.
Even Heat Distribution
The two side-only heating plates radiate heat more evenly and with fewer variances than the oven's 4-plate counterparts, leading to fewer cracked rings.
 Heat Rate Optimization
The APEX ovens have a heat-rate capacity that allows you to reach your desired temperature quickly. Its rate exceeds 50° C / 72° F per minute at full power.
 More Memory
20 programs with a maximum of 3 stages per program
Capacity: (15) 1.75" Rings
Chamber: 8" x 8" x 6"
Overall Dimension: 13" x 16" x 18"
Sheathed thermocouple for longer life
Rugged 1600 Watt design for durability
Real-time clock for programming
automatic start
More economically priced than competitive units with the same features
****1 year warranty on electronics and muffle*****