Scanners
AMANN GIRRBACH SCANNERS
"DNA SPEED SCANNING" - SPEED AND PRECISION IN HARMONY
Scan accurately to within 6µm with a 50 % saving in time – the Ceramill Map 200+ and 400+ stripe-light scanners digitalise patient data both quickly and precisely using "DNA Speed Scanning". It is the result of a continuously further developed scan workflow in which the scanning and matching processes were optimally routinised, thus significantly contributing to an efficient, economic workflow. The compact laboratory scanners are integral components of the Ceramill CAD/CAM system, which forms seamlessly interlocking system components into an efficient process chain of unparalleled precision and economy.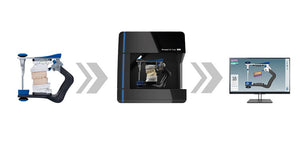 3Shape D2000 and D1000 Scanners
INCREASE PRODUCTIVITY BY UP TO 40%
The D2000 and D1000 multi-line scanners capture multiple scan lines in a single shot for high speed. All-in-One scanning on the D2000 enables users to capture models, all inserted dies, and occlusion information with a single scan.
3Shape E Scanners
GO DIGITAL WITH HIGH QUALITY SCANNING
In today's digital era, even the most cost-conscious labs need a solid CAD/CAM system that meets the many new demands of their customers. 3Shape's E scanners come with the latest technologies for accuracy, high speed and adaptive impression scanning to make advanced CAD/CAM accessible to labs of all sizes.