3D Printers
NextDent 5100 for Ceramill
REVOLUTIONARY HIGH-SPEED 3D PRINTING TECHNOLOGY MEETS CERAMILL SYSTEM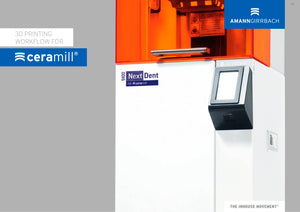 The NextDent 5100 for Ceramill 3D printer powered by revolutionary Figure 4™ technology combined with NextDent's for Ceramill broad portfolio of dental materials addresses multiple indications, resulting in unparalleled speed, accuracy, repeatability, productivity, and total cost of operation.
The NextDent 5100 facilitates high-speed 3D printing for production of dental appliances and sacrificial castings. This revolutionary solution features an industry-defining value proposition that combines best-inclass speed and performance at a price point that is accessible to virtually all labs and clinics.
Benefits
- High speed printing mode for high productivity and flexibility thanks to Figure 4™ technology
- High precision and accurate printing results due to years of experienceHigh ROI due to wide range of validated materials and low invest costs.
Technical data
- Dimensions: With pedestral: 426/489/971 mm, W/O pedestral: 6
- Build Volume: 124.8 x 70.2 x 196 mm
- Build Speed: up to 121 mm/h (depending on indication)