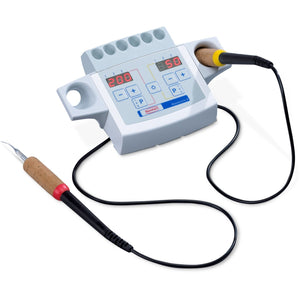 No separate work process of heating up the instruments;

20% saving on modelling time;

When used with Vario E, up to 50% time saving is possible;

Technicians can concentrate more on modelling;

Professional waxing-up of the finest occlusal surfaces;

No overheating or burning of modelling waxes;

Avoids strong contractions.
Product specifications:
Permissible mains voltage: 100–240 V;

Permissible mains frequency: 50/60 Hz;

Supply voltage:12 V DC;

Output power: 10 W;

Transformer input voltage: 100–240 V AC (50 Hz);

Transformer output voltage: 12 V DC (1 A);

Working temperature min./ max.: 122–392 °F (50–200 °C);

Handpiece cable length:  33.5 " (85 cm);

Dimensions (W x H x D): 5.91 x 2.36 x 3.86" (150 x 60 x 98mm);

Weight (with mains unit): 16.2 oz (460 g);

Weight (without mains unit): 9.5 oz (270 g).
Item # 21511000 Waxlectric II programmable 120V
Have questions? Give us a call at 813.888.8889 and we will help you to find what you need!